Marble Pet Urn
$825.00
CLICK HERE TO CUSTOMIZE YOUR PET URN
CLICK HERE TO SEE PET URN OPTIONS. YOU CAN ORDER USING THIS LINK TO OUR MEMORIALS
Our Patented Etched In My Heart Memorial  Urns are individually handcrafted by skilled artisans in fine woodworking and engraving. To make the ordering process easier we have divided the urn into four sections as you can see in the image below there is a face plate, top plate, inside lid and inside tray section. Each one of these sections can be customized with marble, wood engraving, picture frame, plaque and more.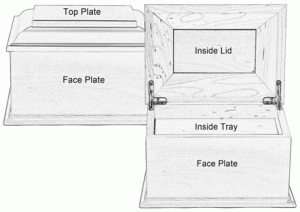 THE BASE PRICE OF THIS URN INCLUDES: A SMALL MAPLE URN WITH AN ENGRAVED MARBLE PHOTO NO OTHER OPTIONS ARE AVAILABLE
Description
Have your favorite photo laser engraved onto our beautiful imported Onyx Marble for a truly breathtaking personalized memorial in remembrance of your beloved companion. "Etched In My Heart" Marble Pet Urns are handcrafted in the United States with great detail and care. The Marble is imported from Italy for these unique Pet Cremation Urns. Each one of a kind urn is designed exclusively for your pet according to your specifications. We help you design your Pet Urn every step of the way even providing you with poems and phrases to choose from as well as assisting you with writing your own personal poems. Just give us special memories you have and characteristics that you remember of your fallen companion and this will give us a window into the soul of your companion and writing a heart felt poem or saying for engraving will come naturally to you allowing you grieve and heal during your design phase.
Your photo is etched on a high gloss marble giving the appearance of an extremely life like representation of your pet. The Black Onyx marble is polished twice before engraving and text can be filled with Gold or Silver Inlay for a brilliant contrast with the marble.
THE BASE PRICE OF THIS URN INCLUDES: A SMALL MAPLE URN WITH AN ENGRAVED MARBLE PHOTO ON FRONT.  NO OTHER OPTIONS ARE AVAILABLE.
Marble Info
Black Onyx marble is very rare and difficult to find as it contains no veining. Traditional marble contains white vertical lines referred to as veining. These lines are a result of phosphorus deposits that contaminate the marble with impurities causing  discoloration of the marble and a general low grade to its engraving capability. Therefore the stone is not ideal for engraving. Although, many companies will use the lower grade marble or a granite. Don't get me wrong you can get a decent engraving from other hard stones as granite and impure marble but you would never get the detail and depth required to really feel as if your pet is right there beside you. I guarantee that you will be amazed with the results because I put my heart and soul into every Pet Urn I help you design. I treat every one of my Memorial Pet Urns as if I'm designing them for my own pets.
With our marble all you see is a high gloss finish with impeccable detailed engraving. Personalized inscription on the marble can be etched in gold or silver tone inlay for a more brilliant contrast.
ORDER FORM
[wpforms id="6726″]
Photo Tips
What type of Images are best for engraving?
When it comes to quality, the quality of the image greatly determines the quality of the engraving. Most images are acceptable for engraving, some are not. The ones that are not usually have certain characteristics about them such as very faded, very low detail or the subject has a shadow over it. Usually the higher the detail and the better the contrast the better the results. Some images just need a minor adjustment and we provide this service free with each order. We also include background removal upon request. If you have a favorite photo that doesn't meet the ideal standards GOOD NEWS we can work with any photo because we understand how that image captures the soul of your dearly departed. Our special techniques allow us to recreate portions of the photo that might be cut off like a tip of an ear or a leg. Perhaps there is a reflection in your pet's eyes that can be corrected also. We take pride in creating a final resting place that brings life to your memorial. One thing to keep in mind while designing your pet memorial keepsake is that it should represent a celebration of your pets life as well as marking its existence here on earth. Now with having said that let me give you a few more tips on the photo you will submit for engraving
You need to send the original photo if possible. The photo should not be taken off of social media because the photo is compressed when transferred.
Try to find a photo that has good lighting, a photo taken outside on a cloudy day can be perfect. Sometimes when a photo is taken outside on a sunny day it can wash the pet out or produce dramatic shadows.
Pictures taken in low light can be grainy and this can't be correctly fully.
Pictures can not be texted they must be emailed to paws2heavenorder@gmail.com also you will have a place to upload a photo on the order form
Taking a photo of a photo is not ideal but if it is the only photo you have we will help you though the best process in transferring the photo to a digital format
When it comes to image size, the larger the image the better. With that said, its better to not resize the image before either uploading or emailing any image file. We accept almost any image file but we recommend JPG, JPEG, PSD, PNG, BMP, TIF, DOC and PSD file formats.
If you need help getting your photo/scan to us please don't hesitate to contact us either by email or phone.
What is the best way to scan my Image in for engraving?
Although we accept almost all forms of image files, if your scanning your image we recommend scanning it at 300 DPI  Ideally 600dpi would be best. Nevertheless, we understand most images places such as Walmart or CVS only offer 300dpi. If you do not have access to a scanner you can do one of the following methods to get us your image. First you can MAIL us your image, your image will be returned with your order. Second you can take your image or document to a (Copying Store) such as Kinko's, they will usually scan the image in a place it on a CD or flash drive for you or E-Mail it to us at the time of scanning. Once you have the image on a CD/flash card simply put the CD/flash card  in your computer and select the image from your CD/flash  drive when you are attaching the image in your E-Mail program. Please pay attention to make sure your email account is not asking you to resize the photo. You need to send the photo in its original size.
If you have any problems we are more than happy to assist in helping you through the process, please give us a call or text  1-614-425-7297
Here are some tips when E-Mailing Image's
(1) Send the highest resolution or largest picture available. (2) If windows ask you if you want to make the picture smaller for E-mailing click NO. (3) If scanning in, scan in at 300-600 DPI
Only logged in customers who have purchased this product may leave a review.